#myfirsttrophywas
Top sporting heroes take part in video campaign aimed at inspiring young children to get active and follow their dreams!
Top sporting heroes from across Kent have taken part in a video campaign aimed at inspiring young children to get active and encourage them to follow their dreams.
It comes after recent figures from Public Health England show one in 25 children in England aged 10 or 11 are severely obese, in Kent that figure's nearly a third.
It's up to schools to determine how much time is devoted to Physical Education in the curriculum but departmental guidance recommends that they should provide pupils aged four to 16 with a minimum of two hours curricular PE per week.


The campaign, which features the likes of Dame Kelly Holmes, Charlotte Evans MBE and Cricketer Rob Key, is part of a joint initiative with Kent Sports Trust and the Bearsted-based trophy company Aford Awards who are both calling on schools across the county to increase the number of Physical Education (PE) hours given to pupils a week in a bid to get kids moving.
They urge younger generations to get active, aim high and strive for their goals to reap the physical and mental rewards, as well as the motivation to continue working hard in their studies and/or career path. View our Kent sportsman talk about their first trophy below:
As a Kent based Trophy Company, we are passionate about the future of the children across the county and the future of our sporting talents.
And last month, there were some disappointing figures from the Department of Digital, Culture, Media and Sport which revealed survey figures suggested just 55.6 per cent of pupils aged five to ten took part in sports competitions at school last year a 6.8 percentage point drop from 2016 when 62.4 per cent took part.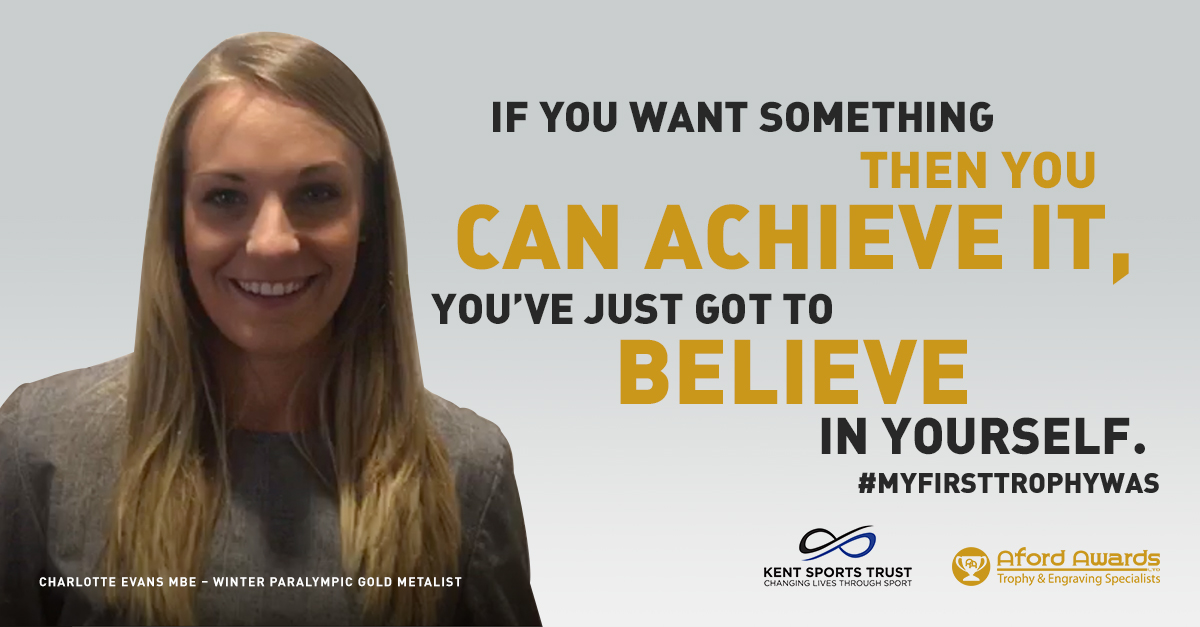 Picture: Charlotte Evans, MBE
Speaking about increasing the number of hours given to PE in schools each week, Charlotte adds:
"Every school is different. "Some schools are really great at it and they provide a lot of opportunities and I think a lot of schools don't and I think they're probably the schools who need to invest in this more and give more opportunities to kids.
"Sport is a great release of stress and energy and I think if we did have more PE in schools I think it would make a huge difference to kids."
Professional snooker player Barry Hawkins and British Racing Driver Tony Gilham also feature in the video, reminiscing about when they achieved their first ever sporting trophy and how it motivated them to continue to work hard in their chosen career path.
Dame Kelly Holmes MBE said: "My biggest message would be to find your talent, go for it, some days you win, some things you lose but be proud of everything that you get.
"I'm proud of every single medal, trophy that I got even right at the start and of course right at the end with my two Olympic golds."
"I'm passionate about seeing more kids in schools have the opportunity to take part in more PE, get outside and enjoy both sport and physical activities. I am who I am because PE brought out my running talent"
"The benefits of being active are huge and I'd love to see more schools in Kent dedicate more time into encouraging the children in their care to be active and prioritising it as part of the social skills and future health."
Rising Levels of Obesity
Jon Ford, Managing Director at Aford Awards said: "We wanted to run this campaign as we feel it is so important that we get youngsters engaged in sport and activities for their own wellbeing.
"Sport has been so important to me and my family, it has helped me with confidence and also keeps me healthy and I think it's only right that we should help every young person in society have the opportunity to be able to become engaged in sport.
"With rising levels of obesity in the UK it's vital that children get the opportunity to exercise while at school, especially those from disadvantaged backgrounds "I think schools have a tough task to try and fit everything in, with the pressure for good academic results.
"When I was at school lunch time was sometimes a pretty dull time, so increasing the number of lunchtime sport clubs could help. "This campaign may not physically get youngsters off their iPads or off the sofa, but we hope it will help in the process by getting them active in some way.
"If we can help inspire children to get into sport, with the help of Kent Sports Trust and these amazing athletes- then we have achieved what we wanted to.
"Every child should have the chance to be involved in sport and in some cases it's not all about opportunity. It's more about creating enthusiasm in a child to want to get out there and do something, which is what I believe this campaign can help to achieve. "The first proper trophy I remember receiving was after winning the Kent Junior Schools Golf Championship.
"I was 16 or 17 and remember I hadn't played for over a year due to injury and had the best two rounds of my life. "It is a memory that will stick with me for my whole life being the first county competition I had won."
Getting Kent Active
Chief Executive Officer at Kent Sports Trust, Steve Wolfe, said: "The team at Kent Sports Trust are keen to get the people of Kent active and if we can do anything to inspire them to begin their activity journey, then so be it.
"Winning a medal or trophy can be so inspirational and hopefully lots of young people will see that achieving their goals can only be a good thing. "Hopefully we see more young people getting active as there are a worrying number that are either inactive or do little sport or physical exercise.
"I appreciate certain sports aren't for everyone, but there really is a sport or activity out there for us all and sometimes it's just a case of finding it. "Kids love things that are fun and engaging.
"Make it too competitive or challenging and they will find 101 reasons not to take part. "We only have to look at the rise of trampoline parks across Kent in the past few years and you will see how making physical activity fun works.
You can watch the videos here and also share your stories and memories of when you won your first trophy on Twitter and Facebook follow @Afordawards and @KentSportsTst.